This cake is rich. It's decadent. It's to die for… It's the perfect comfort food. Who doesn't want to dive into chocolate cake and feel soothed, always. It's also gluten, dairy and refined sugar free. As well as being packed with protein (given the quinoa) and magnesium. What more could you want!
INGREDIENTS
2 cups of cooked quinoa (about 1 and a half cups of dry quinoa)
3 eggs
1/2-3/4 a cup of rice malt syrup (more if you like it sweeter)
1 cup of coconut milk
1/2 a cup of filtered water
3/4 cup of coconut oil
3/4 – 1 cup of cacao (depending on how 'dark' you like your chocolate)
a pinch of salt
1 teaspoon of vanilla powder
1/2 a teaspoon of cinnamon
1/2 a teaspoon of bicarb soda
1/2 a teaspoon of baking powder
METHOD
1. Preheat oven to 180C/350F. Line and grease a standard cake tin (approx 20cm diameter).  
2. If you are starting without cooked quinoa (I will sometimes have a heap in the fridge and use it up by making this little chocolate treat) then pop the quinoa in a pan, cover with water and cook as per packet instructions. 
3. With your blender of choice place lightly combine the 3 eggs. Add rice malt syrup, cooked quinoa, coconut milk and filtered water. Blend until it is a luscious silky type of consistency. If it is too sticky then add a little more filtered water or a little more coconut milk**. Add coconut oil and lightly combine.
4. In a large bowl combine all dry ingredients. Make a well and slowly pour in the wet ingredients. Fold together until combined well**.
5. Pour into prepared cake tin and pop into the oven (middle rack works best) for approx 45-60 mins depending on your oven. Test with a skewer when ready. If the skewer comes out clean, great. If it doesn't cook for a little longer ensuring that you're not burning the edges. This cake is a heavier moist cake (a little like a brownie) so the skewer may come out a bit sticky regardless.
SERVE WITH
A Berry Coulis – lightly blend a cup of strawberries (or whatever you have – can be frozen or fresh), a small handful of mint and a couple of teaspoons of apple cider vinegar together.
Some fresh blueberries.
Coconut yoghurt.
And Loving Earth Raw Chocolate (pictured!). 
*will keep for approximately 7 days in an airtight container in the fridge. **two points that you can taste test and add more rice malt syrup if you would like it sweeter.
Smoothies are great pick me ups. They're easily absorbed by the body, delivering goodness almost directly to the cells, and can be a meal or a snack. Fill them with nutritious happiness and your body will be singing.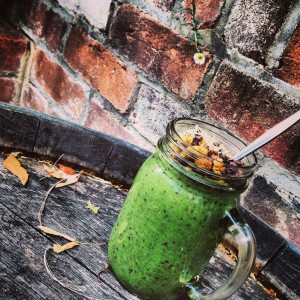 Ingredients – serves 1
½ a cucumber
½ a cup of fruit of low fructose fruit – kiwifruit, frozen blueberries, and/or papaya/paw paw.
2 heaped handfuls of spinach (I would advise sautéing this in a little coconut oil before blending to remove oxalates allowing for better digestion and therefore gut health)
Handful of basil
¼ of avocado or a dessert spoon of coconut oil
1 dessert spoon of hemp seeds
1 dessert spoon of natural nut butter
½ a tsp of cinnamon
½ a tsp of vanilla powder
1-2 cups of coconut water
Steps
Put all ingredients in a blender, combine well and serve with a dollop of coconut yoghurt, cacao nibs, bee pollen and dried mulberries.
a chia pudding love tumble
When we feel love, we allow our bodies to listen with love, eat with love and digest with love. 
This bowl of deliciousness sounds like there's a lot involved but it really is very easy given that you just throw it all in a bowl and eat. The best thing is that you can mix and match an ingredient if you don't have it, don't like it, have never heard of it or your body is simply saying that something doesn't feel right about the goji berries today. Leave them out and add cacao nibs. And always think about fresh herbs and spices. They bring any meal alive, not to mention the health benefits.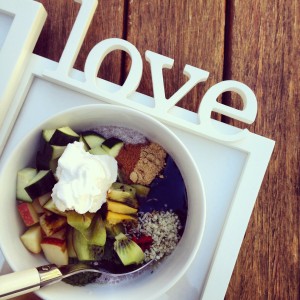 Ingredients – serves 3-4
1 cup of chia seeds (swap for oats if you'd prefer)
1 cup of filtered water and/or coconut water
1 cup of kefir (I used goats milk kefir but you could use any milk of choice, kefir has wonderful benefits for gut health however)
1-2 tsp of cinnamon
1 tsp vanilla powder
½-1 tsp of ginger powder (can use freshly grated)
½-1 tsp of bee pollen
¼ cup of hemp seeds
Handful of goji berries
Handful of pumpkin seeds
Tbl of coconut oil
Handful of basil or mint
Serve with
Chunks of apple, kiwifruit and zucchini
1 tsp of Shaktis Superfood Blend (or your green blend of choice)
A pinch of dried lavender (crumble between fingers and sprinkle on top)
Coconut yoghurt (or yoghurt of choice)
You can choose to prepare the whole pudding the night before or just soak the chia seeds and add the rest when you're in the kitchen in the morning.
Step 1.
Night before. Place chia seeds in a bowl with water/coconut water and kefir of choice (or milk of choice) and combine well. At this point you can add spices, pollen, seeds, goji berries, coconut oil and basil/mint if you'd like (combine well if you do). Cover and refrigerate.
Step 2.
Remove bowl from fridge. Add spices, pollen, seeds, berries, coconut oil and basil/mint if you didn't the night before. Combine. Transfer to serving bowl(s). Add chunks of apple, kiwifruit, zucchini, green powder of choice, a dollop of coconut yoghurt.
NB the coconut oil will become chunky but I love it like this!
nicky's raw chocolate tart
Base
½ cup of pistachios
½ cup of cashews
1 cup of unsweetened desiccated coconut or coconut flakes
½ cup of cacao nibs
1 tsp of vanilla powder
½ a large red chili (seeded is optional)
a good pinch of Himalayan or Celtic salt
1 tbs of rice malt syrup or 3-4 medjool dates with seeds removed
2 tbs of coconut oil 
Mousse
2 ripe avocados
¾ cup of cacao
2-3 tbs of rice malt syrup (start with 2 and add more if desired)
1 heaped tsp of ground unsweetened cinnamon
1 vanilla bean or 1 tsp of vanilla powder
What to do
For the base mix all ingredients in a food processor / blender / vitamix / thermomix / your whizz master of choice until well combined. Try not to over process – the mixture should be sticky but crumbly at the same time. Press into one large tart dish (or 4 – 6 small ones) and refrigerate while you make the mousse. 
For the mousse combine all ingredients in your whizz master until silky smooth and taste. If you can still taste avocado quite distinctly and/or it's not sweet enough for you add a little more cacao and/or rice malt syrup. Grab the base from the fridge and spoon the mousse on top, leveling with the back of the spoon as you go. Put back in the fridge for a few hours (or however long you can spare) to firm before serving. Serve with coconut yoghurt and berries.
The father of medicine, Hippocrates' said:
let food be thy medicine, and medicine be thy food
and really, have there been wiser words spoken. A simple, grounded, real philosophy that not many could argue against. Yet, centuries later, we have removed ourselves so far from this statement that we have made ourselves sick. The modern day health epidemic is reveling. The food we eat is barely recognizable from its original state and has little, if any, nutritional value left. We eat empty calories daily and wonder why our bodies respond the way they do. Sure things like stress, lack of movement, sleeplessness, modern day pressures all play a part but our diets are the platform to true health. Nourishment starts at home, and nourishment starts within. 
Changing the way I approached food was key to my body starting to heal. Educating myself about food was critical. I wasn't someone who ate 'poorly'. I didn't drink coffee, I rarely visited a fast food outlet, I cooked at home. I thought I was doing well. You might say I typified the mainstream 'healthy' diet. Sure I partied hard, and could drink alcohol like a fish, but for the most part I had no idea that what I was putting in my body wasn't doing me any favours. 
Since my journey with food began, I have been vegan, raw, paleo, vegetarian, weaved Ayurvedic in (vata dosha – mmmm yes, the raw approach threw this dosha way out!) and whatever other label you'd like to throw at this but mostly I eat a wholefoods diet that is free of nasties and is dictated by an intuitive knowing while standing at the fridge. Loosely I would say I'm a vegetarian paleo with a love for all things Ayurveda but that is only when someone really needs an answer so that they can wrap their head around the fact that food exists that I can eat. I assure you there is food in truckloads. 
Changing my diet hasn't been easy by any means. Change is hard. Change is confronting. Change takes so much strength and bravery but change can also be magical. It can offer us a new view, a view full of knowledge and empowerment. Afterall, knowledge is power, and for most of us we have very little knowledge of what we're actually putting into our bodies, or what our bodies actually need. If you're looking to make dietary changes then congratulations, you have taken the first step and that's the biggest step of all. Sure, there'll be times that you may make a choice that doesn't serve you as best as another choice would have. There'll be a thousand times that you do this (I know it well) but that's ok. We do the best we can and as long as we are actively trying to serve ourselves more often than not then our bodies will invariably serve us. 
Throughout these pages you will find recipes that taste great while being free of:
processed food
refined sugar
high fructose (at times you will see a little fruit that is higher in fructose but mostly I eat a low fructose diet)
gluten
grains
dairy (you may find goats dairy pop up now and then but never cows)
refined oils
night shade vegetables (I eat very little but they do crop up now and then)
red meat (you can find a word on my approach to meat in general here)
and probably other things I can't think of right now!
Everything is interchangeable however. Something that you might not like, that I love, switch out. If your body does tolerate dairy then cook with organic butter over coconut oil. If you can't go without your oats then make the porridge on oats rather than quinoa. This is a guide only. It is here to offer you tools for your situation. 
Food is meant to be enjoyed. We should not feel like we're missing out. Make the changes that you're ready for. Approach things slowly. One food group at a time. Whatever feels right for you. If you throw everything out at once you may scare your body and, emotionally, you will feel deprived. That is not sustainable. This is not a diet, this is a lifestyle choice. And choices are our greatest gift.